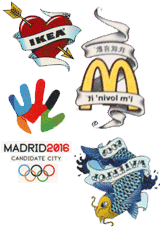 Below you will find our prices for temporary tattoo printing.
You benefit from the best price for an optimal and controlled quality of a product made by temporary tattoo specialists.
Would you like to receive a personalised quote or simply information on the prices of advertising tattoos? Please contact us!
We have been making temporary tattoos for over 15 years! Take advantage of our experience.
Cost in Euro for temporary tattoos with your logo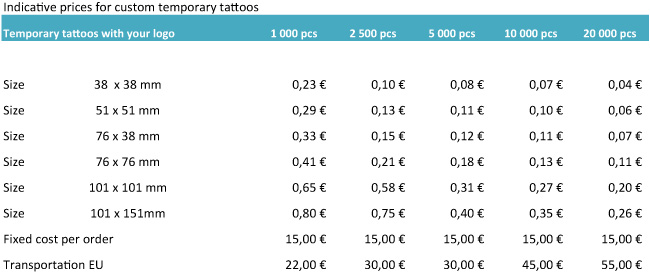 At this price we offer you :
Hypoallergenic, non-toxic temporary tattoos that comply with RIPT, IN-USE and FDA (Food and Drug Administration) certified cosmetic standards.
Delivery in 2/3 weeks;
The possibility to manage the logistics with multi-destination shipping by us (contact us).
We can also provide waterless tattoos, please contact us for more information.
Waterless temporary tattoos are applied without water. An ideal ease of use! Like a sticker, you stick your tattoo on your skin.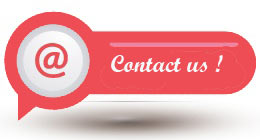 What is the price of a temporary tattoo in bulk or individually?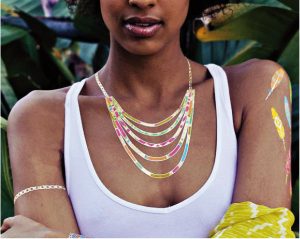 Temporary tattoos have become a trendy fashion accessory that occupies cosmetic shops all over the world. They are attractive because of their low price and the thousands of designs available. But as with many products, one must be wary of prices that are too tempting because they can hide major compliance problems. They must comply with RIPT, IN-USE and FDA certified cosmetic standards. These certifications have a cost, which justifies some prices. The prices of temporary tattoos are fixed according to certain criteria: the quantity ordered, the type of product (waterless, metallic, phosphorescent…). This is why you can find ephemeral tattoos sold online for a few cents, up to several dozen euros for complex models.

How much do standard temporary tattoos cost?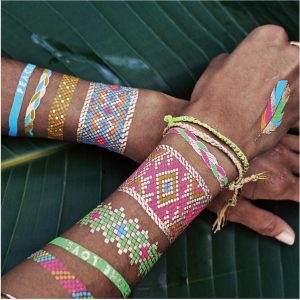 Standard temporary tattoos are transferred with a water-soaked sponge. They last for several days and are available in many colours, metallic or matte. They also exist with phosphorescent ink. Unlike stencils or ink pads, they are not reusable. At tatouages-temporaires.fr, we offer cheap temporary tattoos, starting at 0,04€ per unit. We sell exclusively in bulk, from 1000 pieces. Several sizes are available to meet all your needs, from 38×38 mm to 101×151 mm. Our unit prices are degressive. For example, a 76x76mm temporary tattoo will cost you 0.41€ for 1000 pieces purchased against 0.13€ for 10,000 pieces. It is therefore advisable to evaluate your needs before placing an order, in order to take advantage of the best prices and to avoid multiplying delivery costs. In addition to this price, there is a fixed technical printing cost of €15, regardless of the quantity ordered.

How much do waterless ephemeral tattoos cost?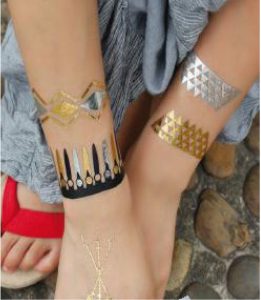 Waterless tattoos are generally called "decals". They can be transferred dry onto all types of skin. However, these products are less resistant than standard stickers and last only 24 hours. They are suitable, for example, for communication campaigns or private events. The costs of waterless temporary tattoos are also degressive. They are available from 0,111 € per unit. We offer 3 sizes: 38×38, 51×51, 76×76. These tattoos are more expensive than standard tattoos because the raw materials used are different. However, the technical costs are also 15€.

How much are the delivery costs?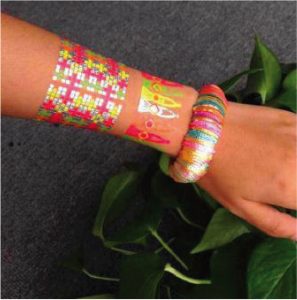 Our delivery costs depend on the quantity of tattoos ordered. They range from 15 to 30 euros. At this price, we guarantee printing and delivery within 2 to 3 weeks. We also offer you the possibility of multi-destination shipping. This service can be used, for example, by central purchasing agencies that wish to supply their franchises directly.
In order for you to benefit from our best prices, we invite you to contact us to establish a quote that corresponds to your expectations and your budget. It will be necessary to foresee possible additional production costs in case of specific needs.